Frequently Asked Questions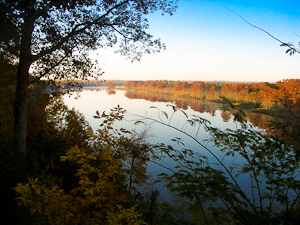 About Shoreline Construction Projects
 
 
How do I get started?

Where should I put my pier?

What type of shoreline stabilization do I need?

What are "living shorelines"?

Can you make me a beach?

When can I expect my project to be completed?
How do we get started building a residential boathouse or pier?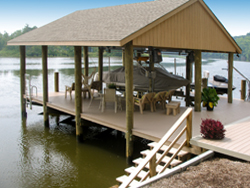 We meet with you onsite to assess your property, and to understand what you like to do to improve your waterfront.
We will advise, make recommendations, and offer education on what is possible based on your budget for the project and what may or may not be approved by the various regulatory agencies that will be involved.
After our initial meeting, you will receive a proposal or agreement that describes your project and a breakdown of associated costs. Each component of your project will be itemized so there are no surprises.
Once we agree on the proposal, you will sign a contract and any permit applications required for the project. (We apply for all your necessary permits for you. We are experienced in navigating the complex federal, state and local permitting process and do not recommend that homeowners attempt it themselves.)
The permits are processed and approved. Small structures (such as piers) may take as little as 30 days to be approved; however, more complex shoreline structures may take two to six months for approval.
Once we obtain all approvals, we will mobilize our men and equipment to your site and your project begins. Completion time varies based on project requirements.
Where should I put my pier?
 
There are two important factors to consider: 1) place it where it allows the safest, securest access from the uplands; and 2) make sure it is long enough to allow for access to the waterway at ALL tidal levels. Doing these two seemingly simple tasks can be harder than you think. It requires proper surveying and soundings of your waterfront which should be done by an expert in the field. We evaluate the potential effects of meteorological events during the design process and that's why our structures stand out! We incorporate Class B piles, rough-sawn 2.5CCA framing, X-bracing and lots of hurricane fasteners in or piers. We believe in doing it right the first time and that philosophy has served us well. ALL of our piers built in the last 25 years are still standing and doing their intended job.

What type of shoreline stabilization do I need?
 
Every property is unique and what works for one location may not work for another. There are many factors that determine the type of stabilization necessary and some of those considerations are:
– Width of waterway
– Fetch
– Depth of water
– Topography of uplands
– Type of soil/substrate
WEC uses 25 years of marine construction experience in accessing your site to ensure we do it right the first time. We work with the natural features of your property while protecting vulnerable areas this minimizes overall impact to the environment and saves you money in the long run!

What are "living shorelines"?
Living shorelines utilize natural techniques to support and replenish boundaries between water and land.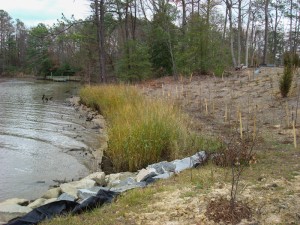 Living shorelines are often stabilized with structures, such as bulkheads, revetment, and concrete seawalls. Ironically, these structures often increase the rate of coastal erosion, remove the ability of the shoreline to carry out natural processes, and provide little habitat for estuarine species. NOAA is working to implement a more natural bank stabilization technique called "living shorelines."
 
Living shoreline projects utilize a variety of structural and organic materials, such as wetland plants, submerged aquatic vegetation, oyster reefs, coir fiber logs, sand fill, and stone. The benefits of living shorelines include:

•Stabilization of the shoreline.
•Protection of surrounding riparian and intertidal environment.
•Improvement of water quality via filtration of upland run-off.
•Creation of habitat for aquatic and terrestrial species.

Can you make me a beach?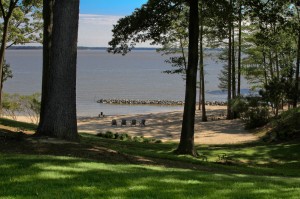 Absolutely! It's called "beach nourishment" or "beach creation." Using environmentally friendly construction processes, we gently sculpt out an area for your sandy beach and put erosion controls into place. The results are beautiful.

When can I expect my project to be completed?

A fair question, and we will give you the best answer we can provide: Plan ahead! Allow time for the application and permitting process, which takes longer than many people expect – with our experience, we know how to move your application along the swiftest route to approval and how to avoid the mistakes commonly made when homeowners attempt to negotiate this process themselves. Start planning 6 months in advance of the time you want your project completed at minimum. The larger the project, the longer you should anticipate the process to take. However, when all is complete, you will find yourself enjoying a beautiful addition to your home that adds lasting value and enjoyment!